TENZI Ceramic Coatings
Application of TENZI Ceramic Coating
A ceramic coating is a chemically advanced product which provides a hard coating/shell to your paintwork which protects and lasts longer than a wax. They are easy to maintain and are very durable, scratch resistant, but not scratch proof. Also known as SiO2 coatings, they require a strict process to be followed for application if they are to be successful and they are often more expensive to purchase than waxes, but do provide to higher finish to the paintwork and as such are becoming extremely popular.
Preparation is key. No amount of subsequent maintenance will preserve and enhance the finish if it was badly applied in the first place.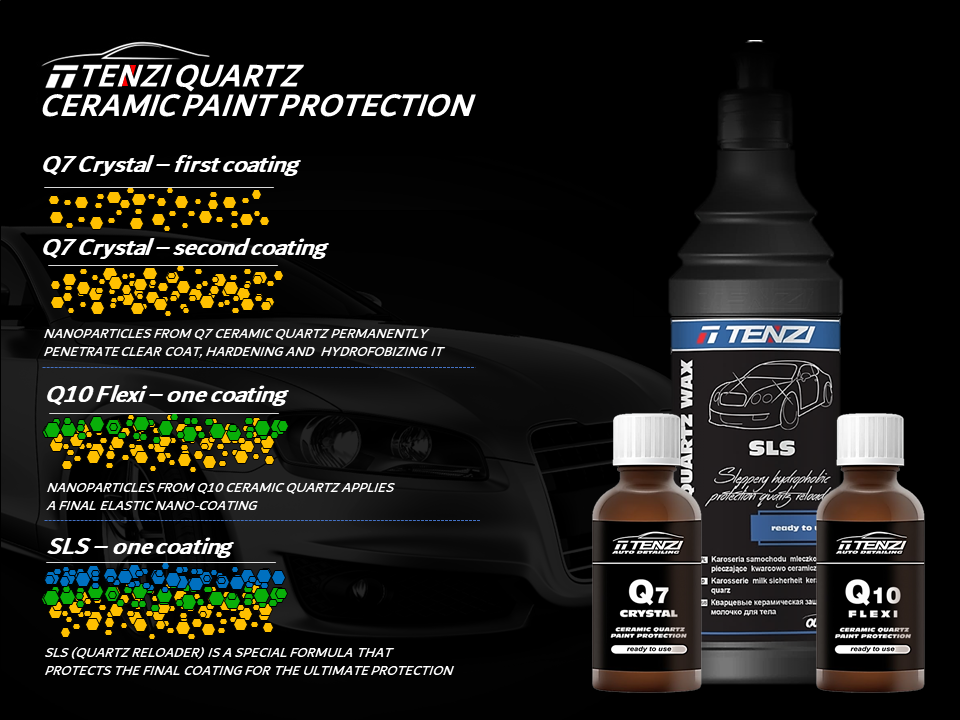 Our TENZI Ceramic Coating Kit comprises of TENZI Q7 Crystal Ceramic Quartz, TENZI Q10 Flexi Ceramic Quartz and TENZI SLS together with applicator and suede microfibre cloths. It is easy to apply and provides excellent long-lasting results but before application the vehicle should be thoroughly prepared by washing and decontaminating.
Step 1. Decontaminating the paintwork
Apply CCC All Purpose Cleaner Concentrate or CCC Citrus Pro Plus Pre-Wash if necessary and dilute as required. Follow this with CCC Snow Storm, TENZI Snow Foam White or Pink or KILLERWAXX Foamzilla then rinse off and wash with CCC Aquamarina or Ocean Jade pH Neutral Vehicle Shampoo.
Finally rinse, dry with a Microfibre Towel and inspect the paintwork. If necessary, remove any tar spots with CCC Tar, Glue & Bitumen Remover and any brake dust contamination with CCC Devil's Mist Fallout Remover or TENZI Bleeding Rim. Decontaminate the paintwork with CCC's Clay Cloth or Clay Mitt and then carry out a final rinse and thoroughly dry with a microfibre cloth.
For the application of all the Ceramic Coating components certain conditions must be met. Application should be performed in a 18-25°C clean, dry, dust free (to ensure dust etc doesn't get embedded into the coating) and draught free enclosed area away from sunlight.
Under no circumstances use the products in temperatures below 10ºC, do not expose the surface to sunlight, make sure that the surface is not hot and provide proper ventilation and fresh air without creating dust in the atmosphere.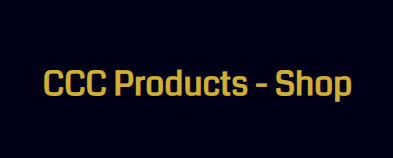 Step 2. Polishing Process
The polishing process is just as important as the decontamination step. Your paintwork has to be in its best condition prior to applying a ceramic coat and once this is applied, any blemishes, scratches or swirls will remain visible and impossible to remove.
Polish your paint with an abrasive polish or compound to remove any scratches or swirls. The more time you spend on this creating a flawless surface will reward you later on! Killerwaxx Love Potion No.10 is superb if applying by hand or if you have a machine polisher, we have a range of different staged compounds and pads to assist you. It's important to note, that after polishing, you will need to chemically strip the paint back to remove the oils and in some cases with other polishes and compounds, fillers – these will prevent the ceramic coating from bonding effectively and shorten its life and finish. The use of TENZI IPA Cleaner will ensure that the paint surface chemically stripped to serve the purpose described.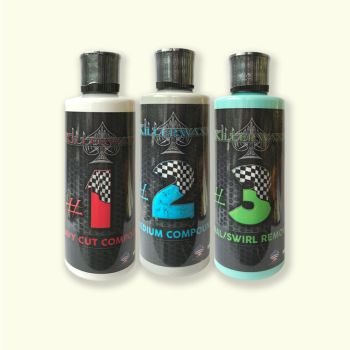 Step 3. Application of TENZI Q7 Crystal Ceramic Quartz.
Read the products safety data sheet on the website listing before using.
Shake bottle well and wait 3 minutes before opening. Use thin rubber protective gloves. Apply few drops of the product onto the suede cloth which is wrapped around the applicator. Spread a thin and even layer carefully in one direction and then again in the other 'crosswise' direction onto the paintwork section. Leave for 3-5 minutes to allow for cross-linking/bonding (you may see bubbles during this process which means the product is hardening)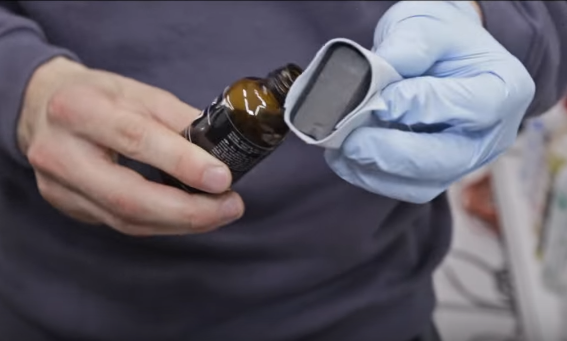 Buff the surface with a microfibre cloth to a high gloss. Move to the next paintwork section and repeat the process until you have coated the entire vehicle. Apply additional layers with minimum time interval of 3 hours (3 layers recommended). Drying time after application of last layer: 8 hours.

Step 4. Application of TENZI Q10 Flexi Ceramic Quartz.
Read the products safety data sheet on the website listing before using.
DO NOT APPLY UNTIL 8 HOURS OR MORE AFTER APPLYING Q7.
Repeat the same process as TENZI Q7, however this time, leave for 10 minutes to allow for cross-linking/bonding.
Step 5. Post application
After application, it is important to let the coating cure in a cool, dry environment for at least 8 hours. You will want to avoid moisture and humidity, so keeping it garaged is preferable. If you cannot garage, then try to keep the paintwork cool by parking in the shade.

Washing the vehicle should be carried out by hand. Wash, rinse and dry regularly, do not apply any chemical products and do not use a clay cloth for approx. 4 weeks.
You can gently clay ceramic coatings, but you must ensure plenty of lubrication or you run the risk of marring and damaging the top coat if you are not careful.

Can you wax over ceramic coatings? Yes you can, but as you will read, TENZI SLS is recommended with this product. Waxes do not bond very well to ceramic coatings and will not last more than a few weeks; additionally, you will lose the 'self-cleaning' properties that the ceramic coating provides, so TENZI SLS is highly recommended.
Step 6. TENZI SLS.
Apply after approx 2 months from initial application of Q7 & Q10.
Read the products safety data sheet on the website listing before using.
TENZI SLS prolongs the service life of the Ceramic Quartz Coatings and positively influences their quality and appearance.
This product is a maintenance/reloader for your Q7 & Q10 ceramic coating. It enriches and deepens the gloss whilst improving the hydrophobic effect.
Designed for the protection of Ceramic Quartz Coatings Q7 & Q10 and based on advanced silicon-ceramic technology, TENZI SLS has high quality components that provide a "super slip" effect, long-lasting and durable protection with high hydrophobic qualities.
Apply TENZI SLS to a clean, dry, degreased vehicle which is free from any impurities like dirt, insects, mineral sediments etc.
Wash the vehicle as necessary. Apply with an applicator pad and evenly spread, allow to haze over and buff off with a plush microfibre cloth. Hardening will take approximately 4 hours.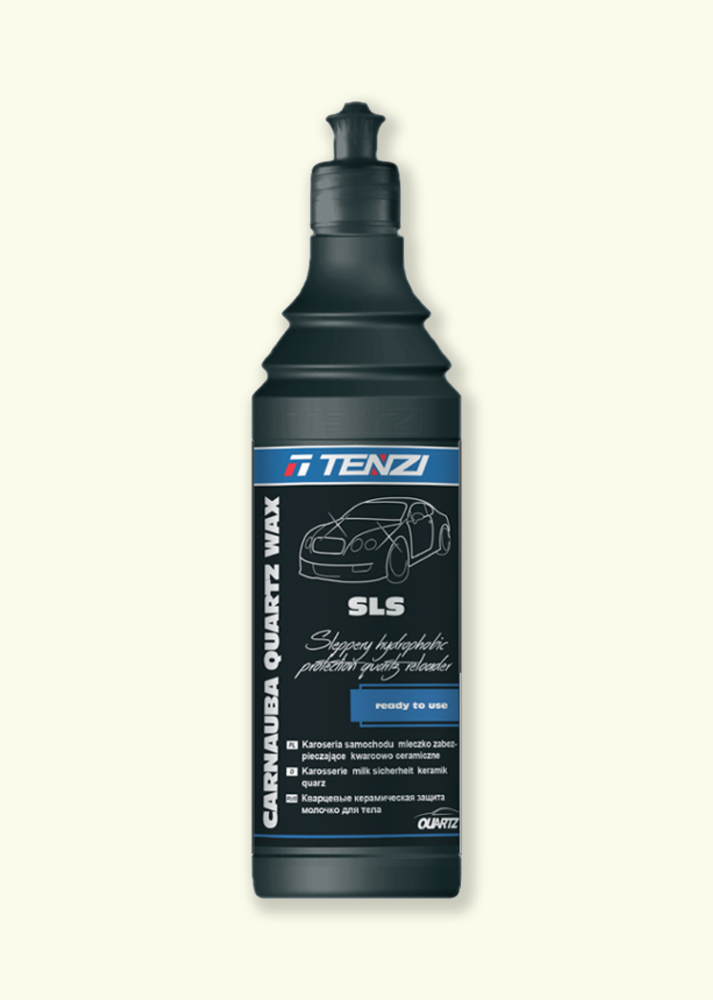 Maintenance of TENZI Q7 & Q10 Ceramic Coating.
Weekly. Washing of your paintwork as described in Step 1 will be safe for your Ceramic Coating and will keep it looking good.
Monthly. TENZI Diamond Gloss Quartz Spray is used in the same way as other detail sprays. Regular use of this product will provide additional protection from the daily elements that cause fading, oxidisation, acid erosion (bird droppings), atmospheric conditions, UV rays, salt spray etc and provide and maintain hydrophobicity.
6 Monthly. TENZI SLS is used to top up protection as described in Step 6.