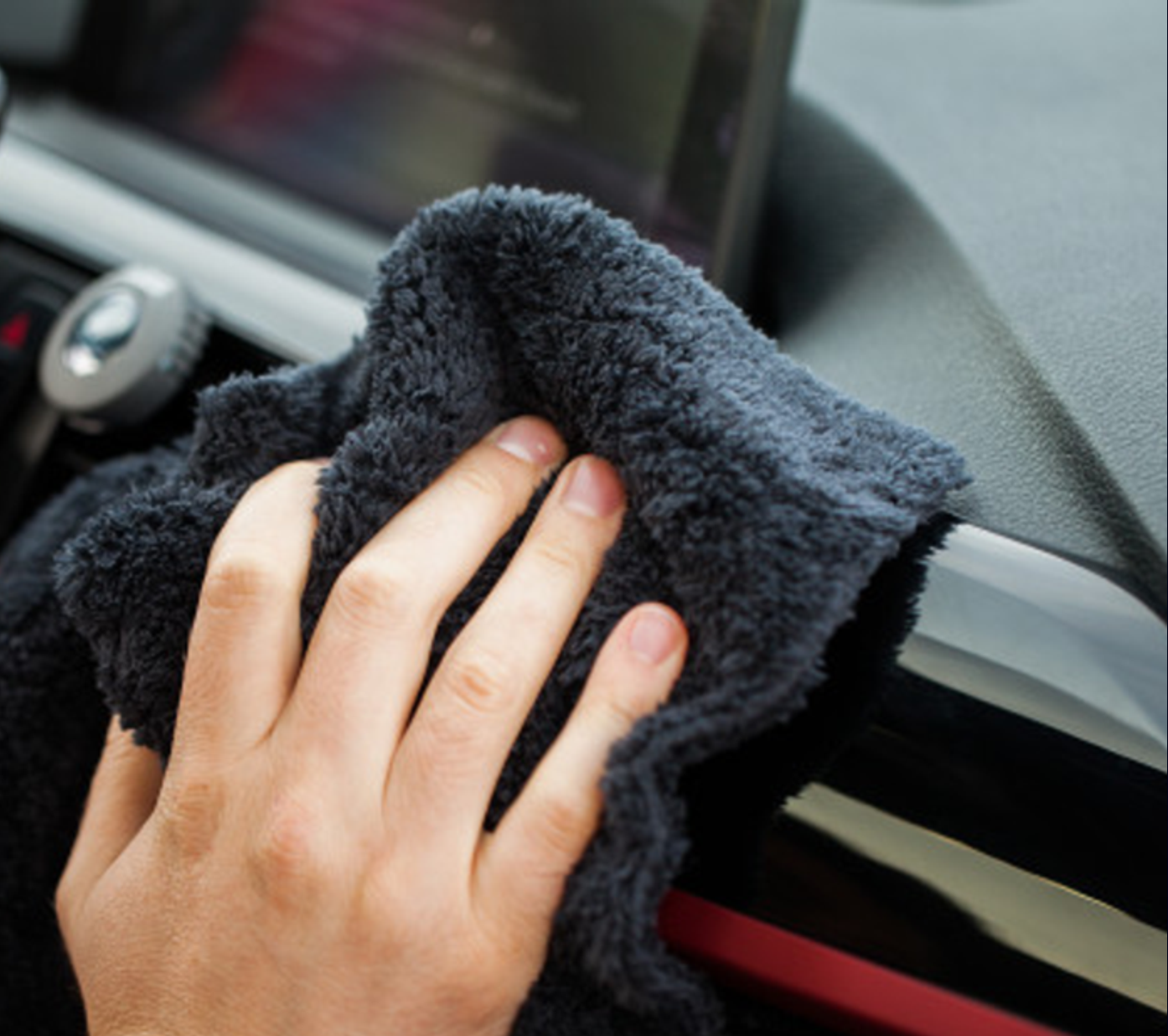 The detailing of the interior of your vehicle is just as important as the care and attention that is paid to the preparation, washing and waxing of the exterior. However, the interior is so often the 'poor relation' when it comes to the overall time that is spent making your pride and joy look its best.
Most of your time is spent inside your vehicle so cleaning and protecting the seats, carpet and interior trim is as important as protecting your paintwork.
THE MAIN PROBLEMS
Particularly in winter you bring in dirt, grit and water on you footwear, your clothes bring in water when it rains and your breathing causes condensation. In summer dust comes in on clothes and footwear and through open windows and UV rays dry out leather and fade upholstery.
Dirt, dust and grit will get ingrained in carpets and upholstery causing discolouration, staining and premature wear. Dust and grit causes micro scratching (or worse) to trim and moisture can lead to mould growth and, in extreme cases, corrosion.
Traffic film build up on the interior surfaces of the glass not only looks unsightly but can cause blurred and hazy vision. At night this contamination refracts the light from vehicles and other outside light sources causing a dangerous reduction in visibility due to glare and dazzle.
INTERIOR CLEANING STEP BY STEP Carpet & upholstery seat cleaning
Firstly remove any mats from the vehicle and shake or brush off any loose surface mud, dirt, grit and dust.
A decent wet and dry vacuum cleaner with a flexible hose, upholstery brush(s) and crevice tool is a great help in removing both surface and embedded dirt and grit from carpets and upholstery.
Before starting on the fitted carpets, if you have upholstered seats vacuum them off paying particular attention to seams and crevices. For leather seats, wipe them over with a barely damp microfiber cloth to remove surface dust and access difficult areas with the vacuum cleaner crevice tool.
For upholstered seats CCC's Professional Upholstery Brush is specially designed to remove dirt and grime quickly and easily.
If there is dried and embedded contamination on the carpets a firm bristle hand brush can be used to loosen it. Start brushing from the corners and work towards the middle of each foot well.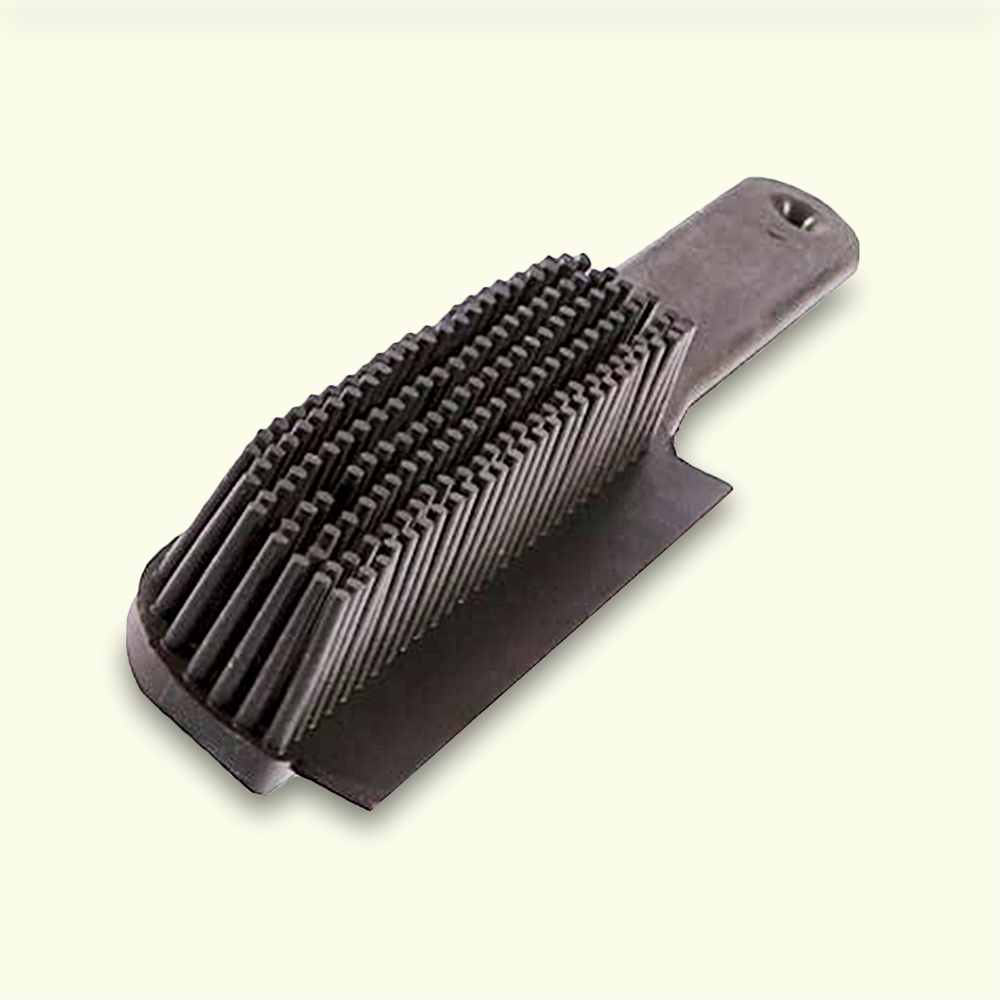 For those who have their pets in the vehicle removing pet hair and fur from your upholstery and carpets can be a particular problem. To this end CCC's Pet Hair & Fur Removal Brush is the solution.
Use a vacuum cleaner to clean the fitted carpets in the foot wells and don't forget to do around and under the seats and any loose mats that were previously removed.
Brush out and/or vacuum the boot or luggage space and the spare wheel well if you vehicle has one.
Remove the spare wheel where appropriate, clean and dry the well if dirty and clean the spare wheel as per your normal wheel cleaning regime. A coat of wax on the spare wheel and the wheel well would not go amiss.
After brushing and vacuuming it's time to spot clean any stains that may be present on the fabric upholstery, fitted carpets and mats.
To spot clean, apply a fabric cleaner to the area of the stain and leave to dwell for a minute or two or in accordance with the product instructions. Some cleaners can be diluted so for these use a dilute solution and move to a stronger solution if necessary.
The use of CCC's All Purpose Cleaner or TENZI Clean Upholstery are recommended for fabric upholstery, fitted carpets and mats.
Gently stimulate the area of the stain on upholstery with a microfibre cloth taking care not to damage the nap of the cloth. On carpets and mats use a stiff bristle brush to work the cleaner into the pile.
Always try the cleaning product on a concealed area to ensure that it is compatible with the material and will not cause a colour change.
Repeat the process if the stain persists.
Dry the area by dabbing with a dry microfiber cloth. On carpets excessive moisture can be removed with a wet and dry vacuum cleaner.
If the carpets and / or upholstery is generally dirty then a more thorough overall clean may be in order.
Apply the fabric cleaner to the affected area generally as previously described and in accordance with the instructions. The use of a wet and dry vacuum cleaner is recommended to remove as much moisture as possible after cleaning and to promote more rapid drying.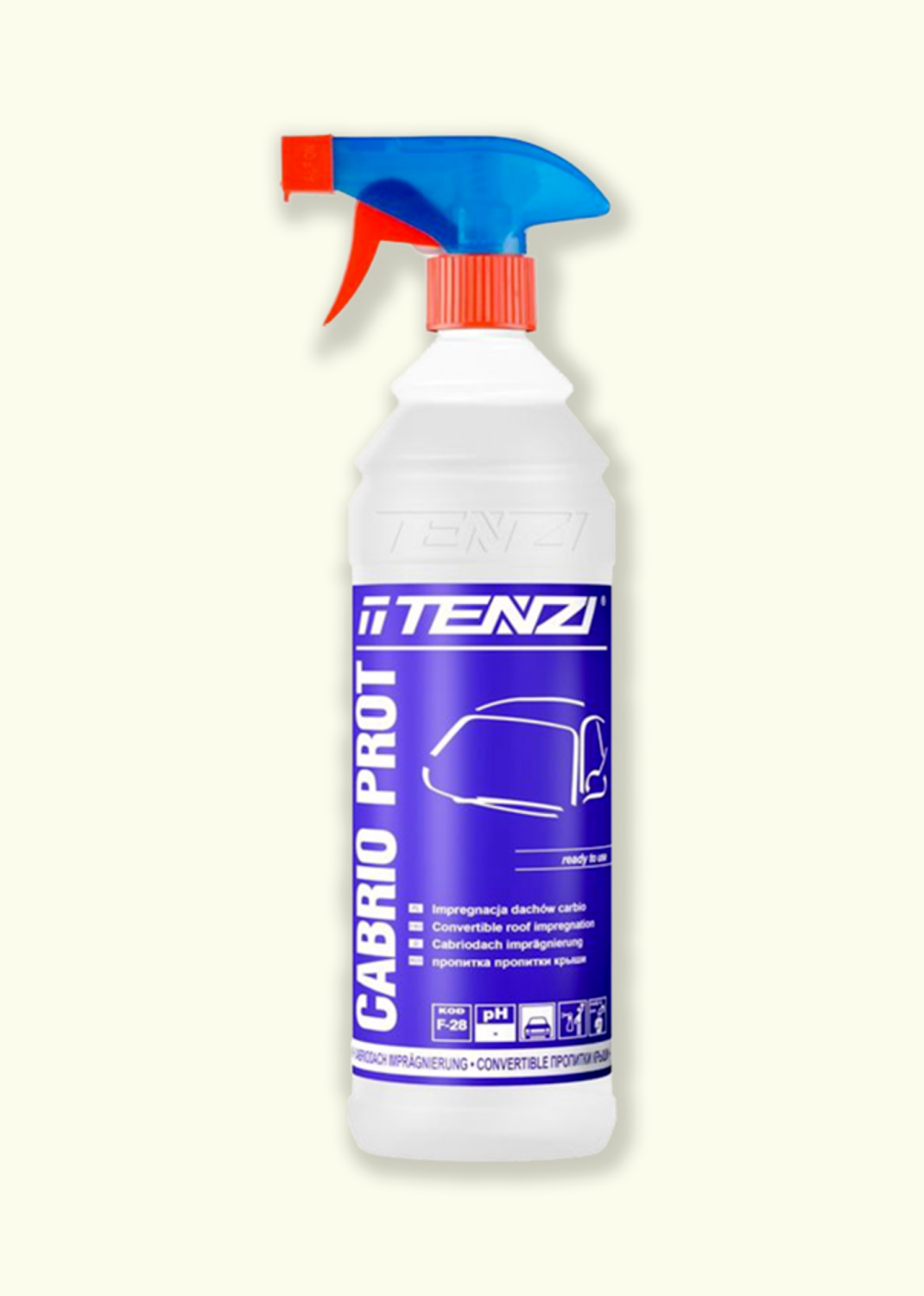 PROTECTION OF FABRIC, UPHOLSTERY, FITTED CARPETS AND MATS.
Once your carpet and upholstery has dried completely, it's time to think about protection. This will help prevent the formation of stains and make future cleaning easier.
TENZI Cabrio/Fabric Protection has water and oil repellent properties and will help prevent discolouration and resist moisture and stains. Additionally, it will limit the effects of UV rays to prevent fading.
Spray the product evenly onto dry and clean upholstery, carpets and mats and leave to dry for 2 to 3 hours.
Again, it is always advisable to try the product on a concealed area to ensure that it is compatible with the material and will not cause a colour change.
CARE OF LEATHER SEATS AND TRIM.
Cleaned and conditioned leather adds a touch of class to any vehicle.
When leather is looking its best it is a source of tremendous pride for the vehicles owner. Leather seats are one of the very first things we notice when we enter a vehicle and dirty seats not only look bad but the dirt can cause long term damage to the leather. Leathers natural grain also makes it particularly susceptible to the build up of dirt and grime.
Leather and faux leather are also prone to drying out and cracking over time so regular maintenance is essential
The first step to revitalising your leather seats and trim is cleaning.
CCC offer two products that are designed for this purpose. TENZI Clean Leather and KILLERWAXX Premium Leather.
TENZI Clean Leather is designed for both natural and faux leather and is easy to use.
On a dust free surface apply the product using a cloth or sponge to avoid spilling it. Scrub the surface with the cloth or sponge then wipe off the dirt with a wet cloth. Finally use a dry cloth a wipe the surface until it is dry.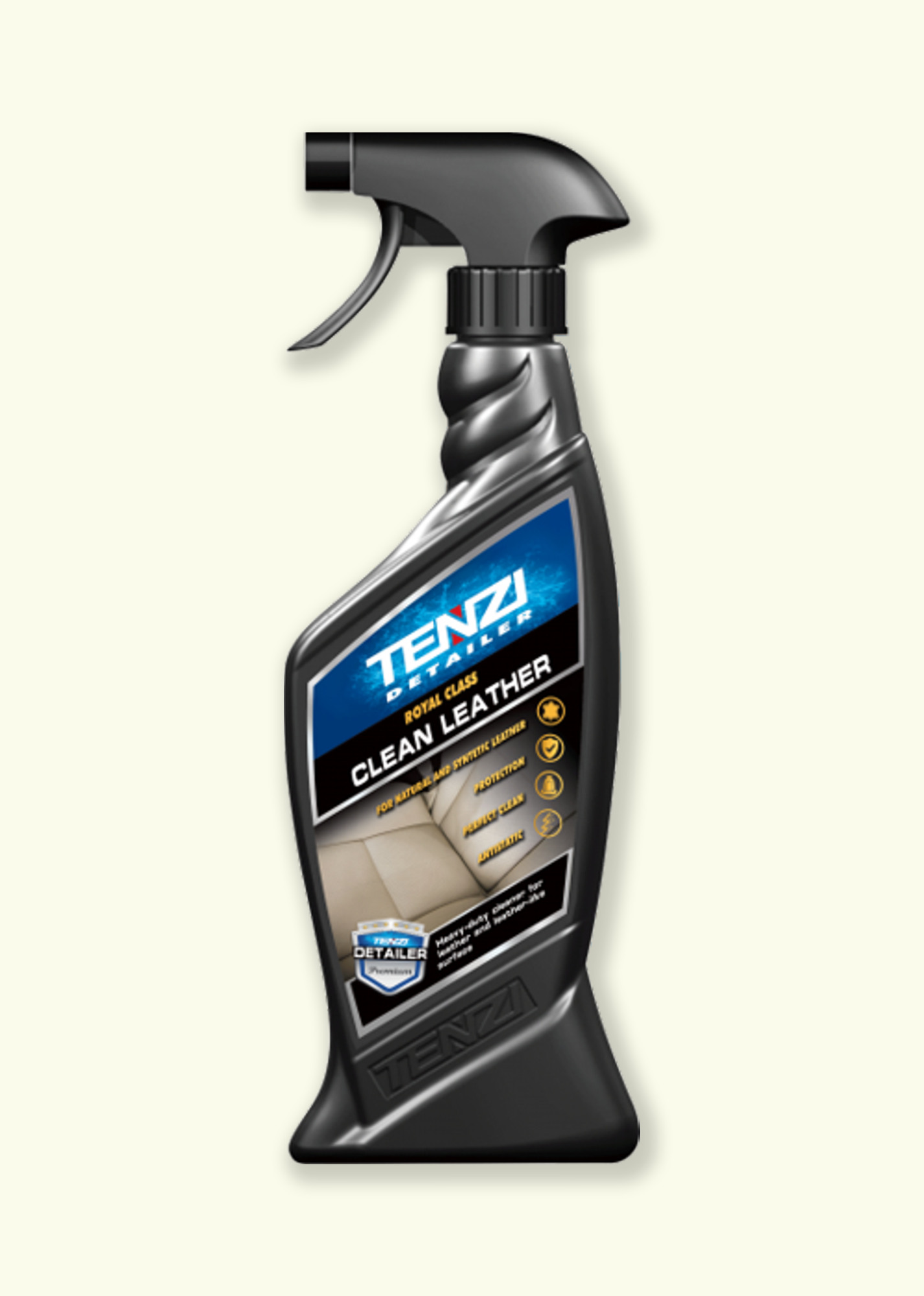 KILLERWAXX Premium Leather Cleaner
KILLERWAXX Premium Leather Cleaner is primarily for natural leather and will not dissolve its natural oils. This product is ECO friendly, biodegradable, not oily and smells like fresh cut leather.
On a dust free surface apply the product using a cloth or sponge to avoid spilling it. Scrub the surface with the cloth or sponge then buff off with a dry cloth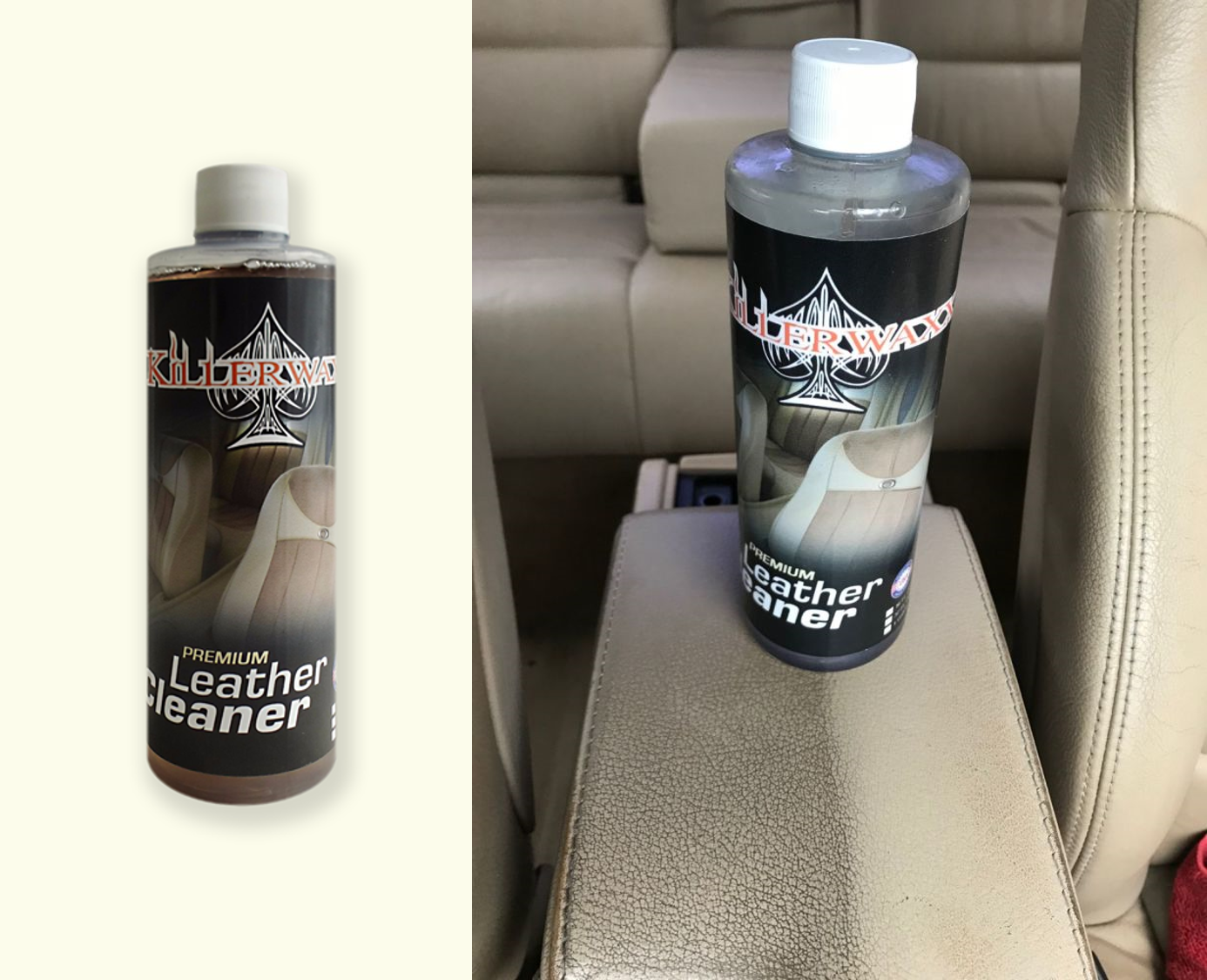 KILLERWAXX Premium Leather Conditioner
Having removed the dirt and grime it is important to apply a conditioner for long term protection.
For this protection KILLERWAXX Premium Leather Conditioner is ideal. It has a pH balanced concentrated water base that contains exotic oils and emulsifiers that will soak into the leather to restore it to its soft natural feel. Killerwaxx Premium Leather Conditioner also seals and protects the surface from wear and tear and will bring the original lustre look and feel back.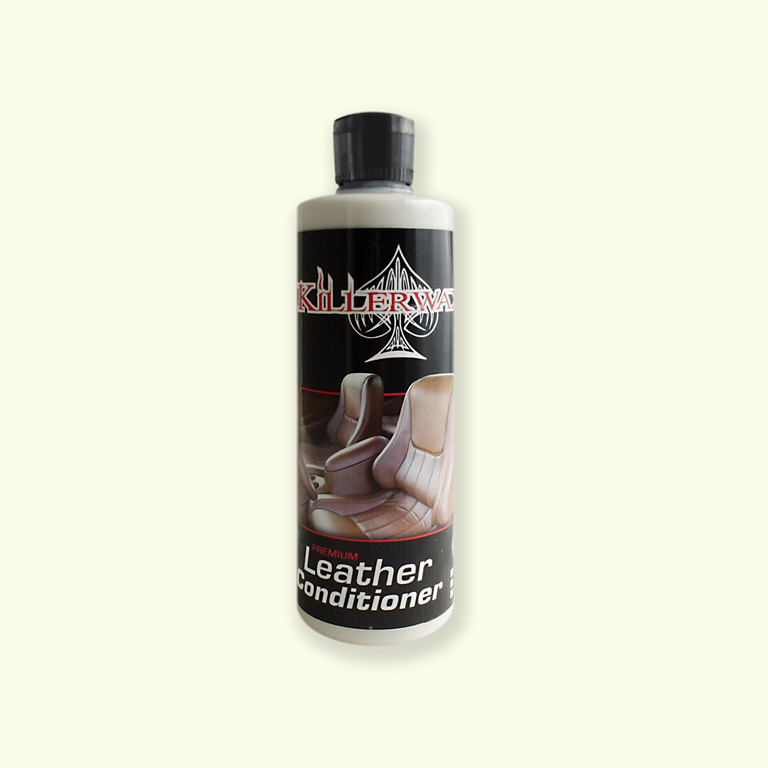 INTERIOR TRIM.
The interior trim of most modern vehicles is a combination of vinyl, plastic, rubber and leather.
Leather and faux leather has already been addressed so this section will only deal with vinyl, plastic and rubber trims.
Before applying any cleaning or protection products to the interior trim it is important to remove any loose dust and dirt.
Our trusty vacuum cleaner with an extension hose, soft bristle brush head and crevice tool is the primary tool for the task. If the brush's bristles are set in a plastic head make sure the edges of the plastic are smooth so as not to scratch any trim. If in doubt, put a couple of turns of electrical tape around the plastic for added protection.
Dust off the parcel shelf, interior door trim including arm rests and door pockets, glove compartment, dashboard and any associated pockets and the top of the dash.
Sometimes areas at the base of the windscreen and the rear window can be difficult to get at. Wrapping a microfiber cloth around a ruler and securing it with a rubber band can make a useful improvised tool for these areas.
It's worth noting that designers have dedicated many hours to incorporating an infinite number of 'difficult to get at' slots, cracks, seams and corners into our vehicles to frustrate the process of interior detailing. Fortunately CCC have invested their time in sourcing a couple of items that will make detailing the interior of a vehicle a little easier.
Interior/Exterior Detailing Brushes
First in the line up is CCC's Car Interior/Exterior Detailing Brushes Set.
This Interior Brush Set consists of the following:-
1 x large stiff bristled brush 40mm x 180mm
1 x double ended tool with super soft 40mm long dusting bristles and firm pointed shape rubber end (20mm long), overall length 195mm.
1 x twin ended vent cleaning tool, each end has 2 prongs (26mm) with velvet effect for cleaning vent slats, overall length 190mm.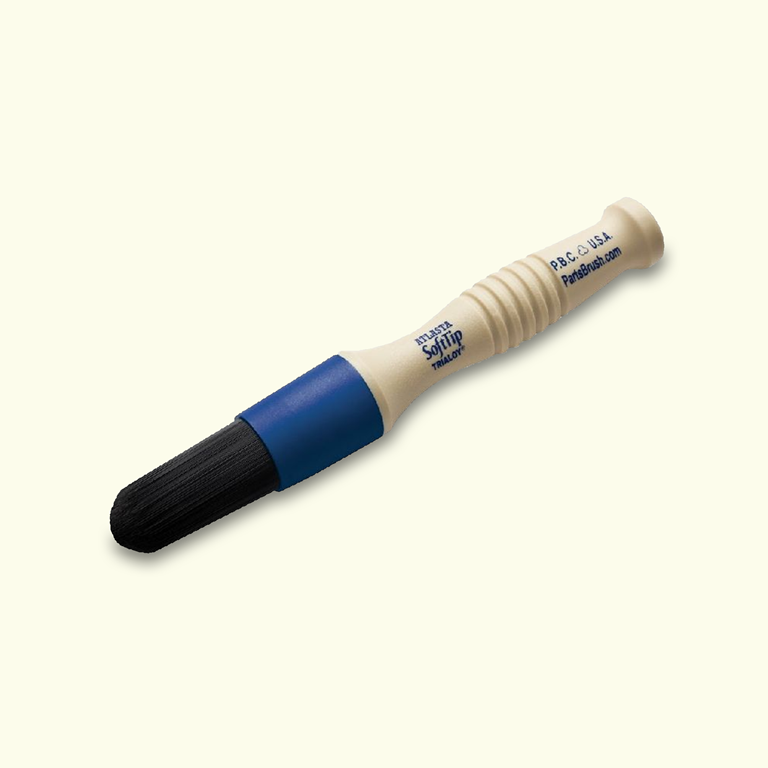 Interior/Exterior Detailing Brushes continued...
The second item is CCC's Atlasta Soft Tip Wheel/Parts Cleaning Brush.
Although primarily marketed as a Wheel/Parts Brush its soft bristles are ideal for dusting around areas such as seat runners, in door pockets, around gear shift levers and the centre console
Cleaning & Protection products
Having covered the hardware issues it's time to address the cleaning and protection products.
Generally speaking, interior detailing products do the 'clean and protect' in one go. Just spray or wipe on and buff off.
For those who don't want to add any gloss build up to their interior surfaces TENZI Matt Cockpit Supreme is the recommended product.
It is easy to use. Simply wipe on using a microfiber cloth and buff off with another microfiber cloth until dry.
TENZI Matt Cockpit Supreme removes dirt and creates a matt and antistatic layer that protects the surface from renewed dirt settling. Refreshes colour and provides additional satin effect. It leaves a pleasant aroma and is available in 4 pleasant scents.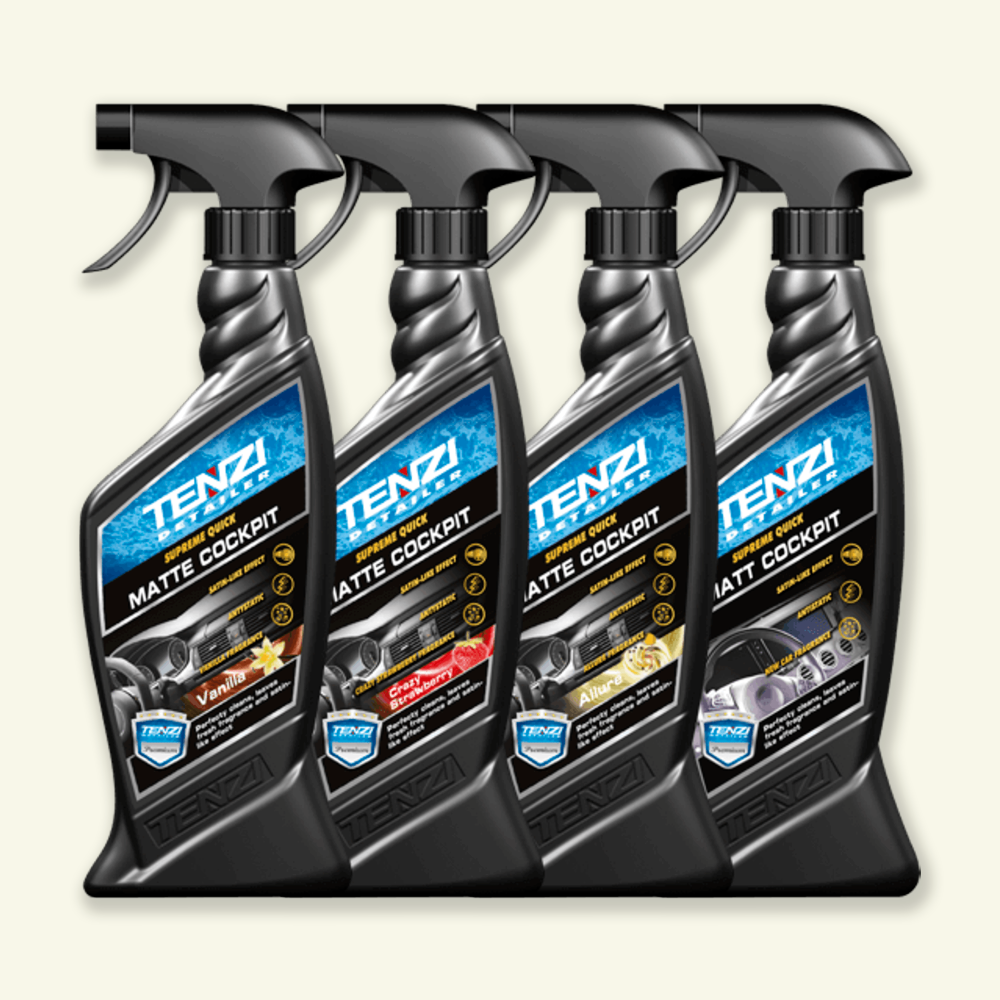 For plastic, vinyl and rubber surfaces, especially those that have a sheen or gloss finish there are two product options and both follow the spray or wipe on and buff off method of use.
First in the line up is CCC's Detailing Spray.
For use on plastics, glass and rubber trim, it leaving no residue and contains high levels of premium quality carnauba wax to leave a superior shine in seconds.
The second product is KILLERWAXX Pro Finish Vinyl and Rubber Spray.
This is perfect for vinyl & leather seats, plastic trim, mouldings and dashboards.
The spray leaves a light shine and conditions vinyl and rubber. It does not contain alcohol and is not greasy or oily like many other products on the market. It will not dry and crack your dash or rubber surfaces and contains UV protectants.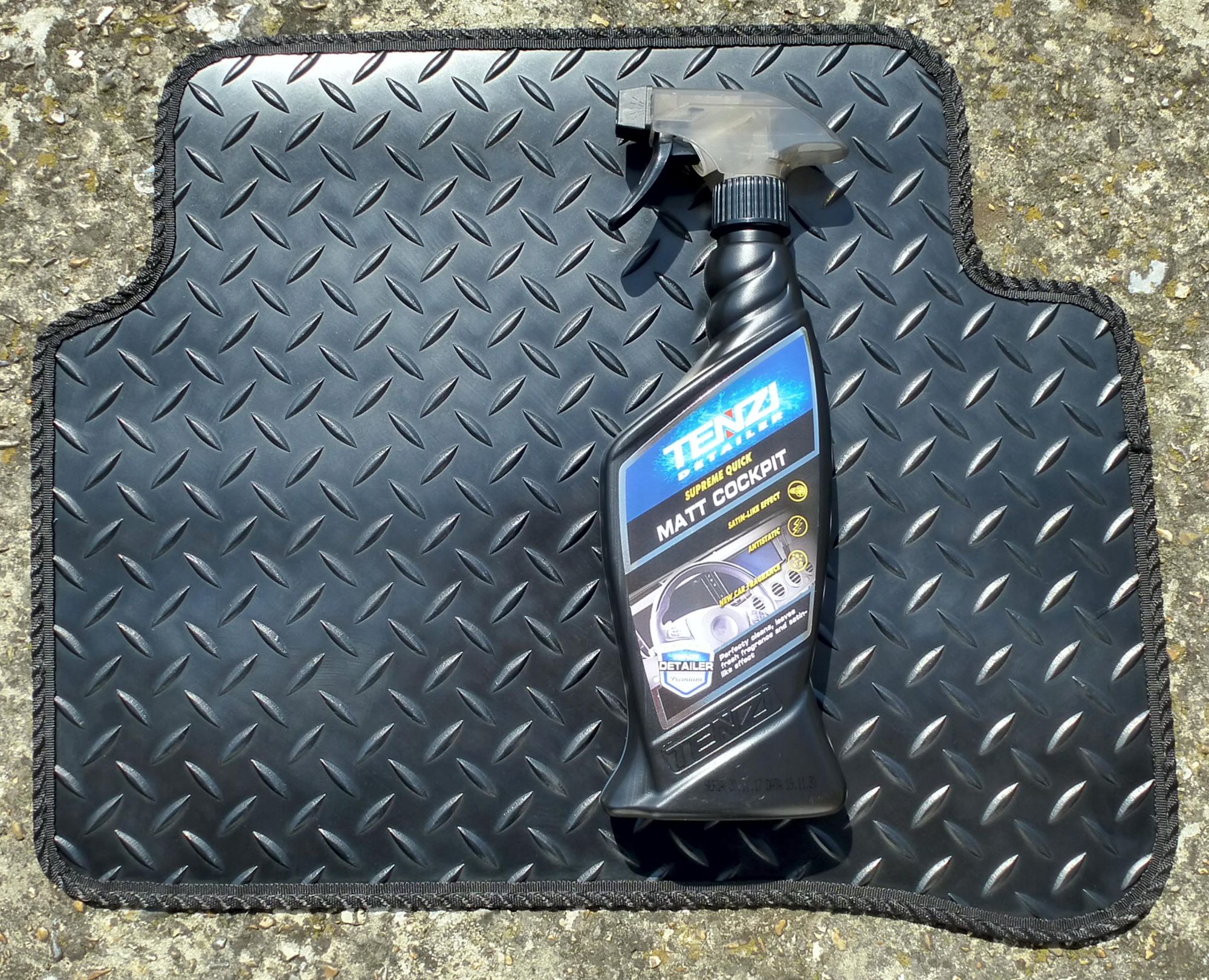 Do you use rubber mats in your foot wells in winter?
The mats can be bought to fit most makes and models of car and so do not look out of place.
They are ideal for catching water, dirt, grit and mud bought in on your shoes and save your carpet mats and fitted carpet from the worst that winter can throw at it.
These mats are easy to wash off and dry as they don't absorb water but if left after drying off they tend to still look grey and dirty.
Any of the previous three products will give the mats a 'as new' clean look and add a water repellent coating. It is worth noting  however that TENZI Matt Cockpit Supreme is the only product that does not add some degree of 'gloss' to the surface and therefore your feet are less likely to slip on the mat if this product is used.
Dirty glass is unsightly but more importantly, IT'S DANGEROUS.
We've all been there. It's night, it's wet and it's raining, there's spray from the vehicle in front, your wipers are struggling to cope and there's traffic film on your windscreen. Add to that oncoming car headlights and visibility goes to virtually nil due to the glare and dazzle.
Traffic film build up on the interior (and exterior) surfaces of the glass causes blurred and hazy vision at any time of day but at night this contamination refracts the light from vehicles and other outside light sources causing a dangerous reduction in visibility.
Washing the vehicles glass with car shampoo or cleaning it inside with the glass cleaners readily available on the high street will not completely remove this traffic film. It is however essential to completely remove this traffic film in order to obtain sparkling clear glass.
For removal of the most stubborn traffic film apply CCC's Citrus Pro Pre Wash to a microfiber cloth or Flexipads Pro Applicator. Use neat and do not over wet the cloth or applicator. A cloth or towel spread over the top of the dash to catch any drips would be advisable.
Apply the pre wash to the glass surface and rub well. Do not allow to dry but buff off thoroughly with a dry microfiber cloth.
After treating the glass with the Citrus Pro Pre Wash remove any residual hazing with TENZI IPA Cleaner. Apply this with a microfiber cloth or Flexipads Pro Applicator and buff off before it dries with a clean microfiber cloth.
Being alcohol, this product will evaporate quickly so treat small areas and avoid using it on hot glass.
For maintenance glass cleaning or after the removal of traffic film a good quality glass cleaner should be used to give the glass that crystal clear sparkle. Spray on the glass cleaner or apply with a microfiber cloth or Flexipads Pro Applicator, do not allow to it dry and buff off with a microfibre glass cloth.
CCC's Microfibre Professional Glass Cloth is ideal for this purpose. Its super tight weave with a low pile will leave a lint free streak free finish and it is fully machine washable.
CCC offers a choice of three glass cleaner.
Their premium product is TENZI Premium Class Clean Glass. This product is competitively priced, easy to apply and remove and does not leave any stains or light reflections.
CCC's mid range glass cleaner is TENZI Top Glass Premium GT. This product has additives to provide Antifog properties and, as with the TENZI Premium Class Clean Glass, it is easy to apply and remove and does not leave any stains or light reflections.
Finally CCC's top of the range glass cleaner is KILLERWAXX Extreme Window Cleaner.
It is like no other glass cleaner you have tried before.
In summer it can be sprayed on HOT GLASS and will not evaporate, steam away or streak like all other cleaners on the market.
KILLERWAXX Extreme Window Cleaner contains no alcohol or abrasive chemicals that can put fine scratches on your glass. Very little is required and just 2-3 sprays will clean an average windscreen making a bottle last a very long time!