Winterizing Your Car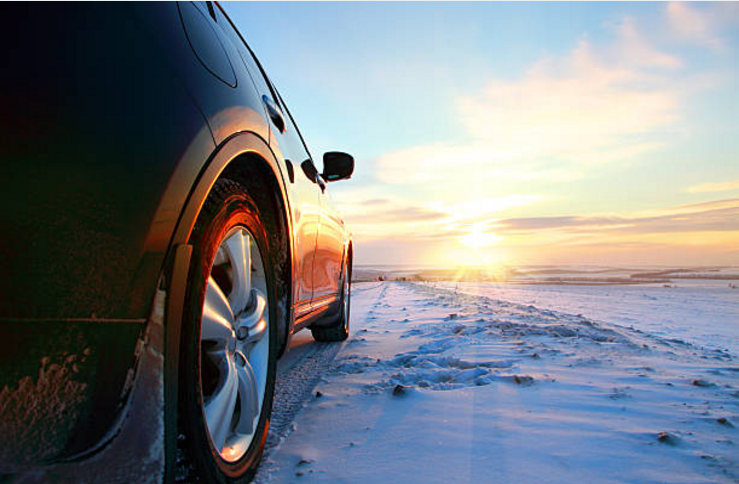 Winter can be harsh on our vehicles, so providing some additional protection is important in maintaining the paint, your wheels and glass. This article will provide some information on how you can protect your vehicle and maintain your showroom shine!

* This guide takes into account that you will have already Clayed your paintwork prior to applying Sealants and Waxes. [Video Tutorial]
Paintwork
The main culprit during the winter months is road salt. This is used widely to de-ice the roads and without suitable protection, it can have some very harmful effects on your vehicles paintwork. Sealants and waxes will provide this protection and they are not hard to apply.

Grit, often used in conjunction with road salts, is also a problem. The incidence of stone chipping tends to be higher in winter so check regularly, touch up chips as necessary and re apply wax to the area.
Sealants
Paint sealants provide much protection, require very little maintenance and are durable. KILLERWAXX Paint Sealant (KWS) uses crystalline polymers combined with pure carnauba wax and offers unmatched protection against UV rays and salt degradation. KWS is easy to apply and remove and creates a glossy, mirror-like finish and lasting protection.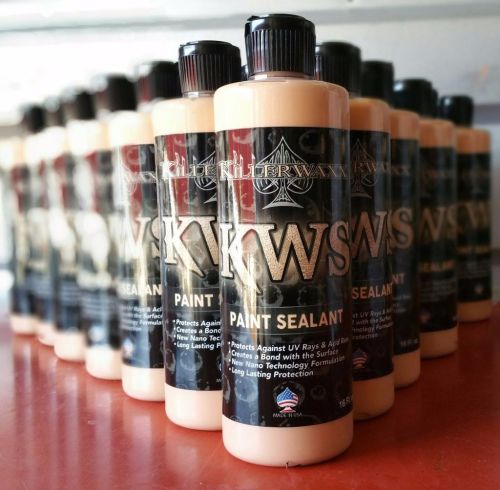 Applied sparingly using a clean Flexipads Pro Applicator, the product is allowed to dry to a light haze and then buffed off with a Plush Microfibre Cloth. The step is repeated a further 1-2 times and then the paintwork is left to completely cure for 24hrs to allow the sealant to harden. It should be noted that the paint surface on which you applied the sealant to should be kept dry during this curing process.
Multiple layers is the key to providing a durable protection all winter long and sealants can be topped with a quality carnauba wax to further enhance the shine. .
Wax
Many car owners are not aware that whilst sleet, snow and ice may appear clean, the moisture content within still contains dirt, grit and minerals and often acidic particles; if left on the car for a prolonged duration, this will have an adverse effect on the paintwork, wheels, rubbers and most other areas. The protective clear coat your paintwork has will deteriorate and clarity and shine will be lost.
Waxing goes a long way to prevent this from happening as it acts as a barrier between your paintwork and these harmful elements that it's subjected to. Additionally, grit and increased gravel on the roads from the breakdown of potholes in the winter months can cause stone chips, scratches, dents and allow road salts to get into tiny holes in the paintwork and cause rust.
What wax should you use?

Well, Carnauba Wax is one of the hardest waxes that can be found in its natural form and thus produces a very durable and extremely glossy finish when combined with other waxes and ingredients which we find in wax products. Carnauba Wax is virtually insoluble in water, meaning that it won't disappear or be removed very easily after each wash or rain shower.
Most car waxes are a combination of a natural wax, solvents, silicone fluids, other waxes and colorants. It is necessary to add these ingredients to produce a softer product that can easily be applied to our paintwork.
KILLERWAXX Northern Lights Premium Hard Wax uses Grade #1 Brazilian Carnauba Wax which is 100% pure. It's the strongest you're going to find on the market and will provide valuable protection for 6 months.
Applied with a Flexipad Pro Wax Applicator Pad, the wax goes on like butter and comes off just as easy without leaving any white residue!

There is no requirement to rub hard like other waxes on the market, just allow to haze over and buff off with a Plush Microfibre Cloth for the ultimate deep glossy shine!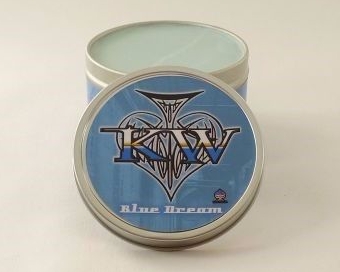 KILLERWAXX Blue Dream is a special formula carnauba paste wax with more polymers than the standard paste wax and a specific blue polymer to benefit darker coloured vehicles. With a Blueberry scent, Blue Dream provides maximum gloss and protection with a fusion of Grade #1 Brazilian Carnauba Wax and Polymers.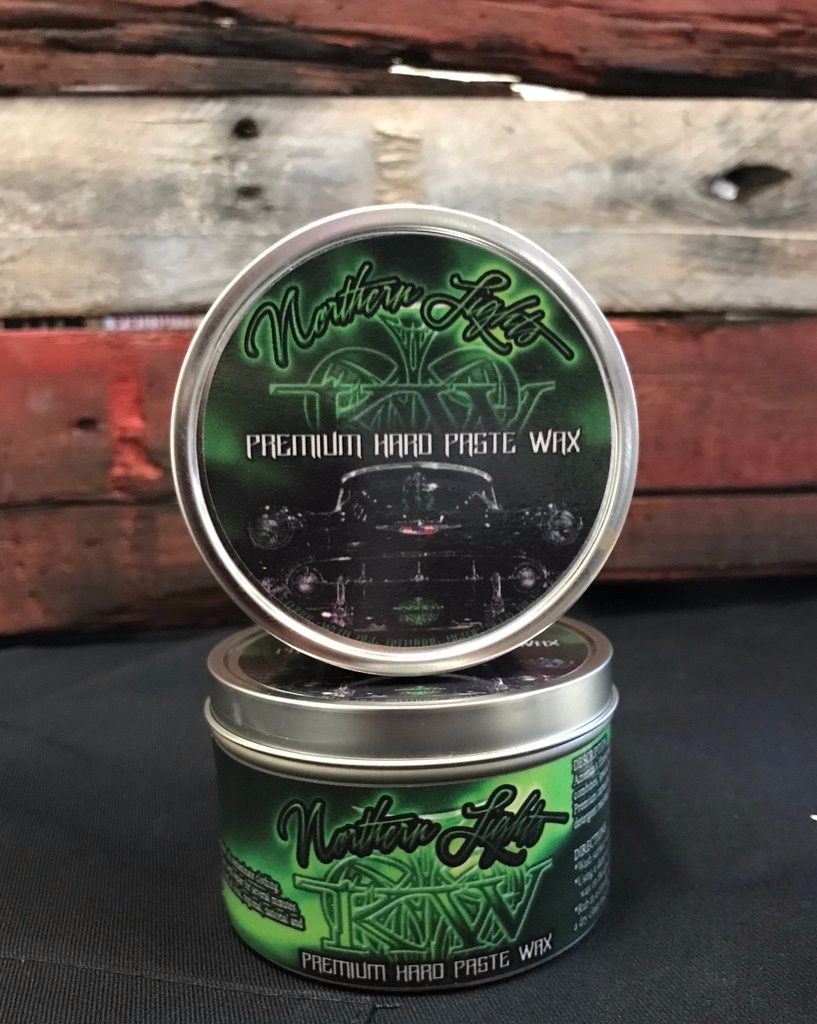 Unlike all other waxes, KILLERWAXX Northern Lights Premium Hard Paste Wax is made with pure natural Hemp Seed Oils. Natural Hemp Seed Oil is used rather than traditional solvents to break down Carnauba Wax, which allows this wax to bond better and produce a shine with more depth. Additionally, this wax combines special non-abrasive chemical cleaners and is made with a blend of #1 premium carnauba hard wax. It cleans and waxes in one easy step. Leaves a brilliant, hard, durable and detergent resistant shine.
Wheels and Tyres
These often neglected areas will need more protection than normal during the winter months. Alloy Wheels can be protected in the same way as your paintwork, using waxes as described above. You can also get a dedicated alloy wheel coating by the name of SONAX XTREME Wheel Rim Coating Nano Pro. A long-lasting and transparent coating using nano-technology, the Wheel Rim Coating protects the alloys against harmful particles and elements which it comes into contact with, no more so than in the Winter months!

Sprayed on a clean wheel, the product is left to cure for approx 1 hour, leaving a protective coating as hard as glass.

Tyres need to remain flexible and supple to aid grip and prevent cracking in cold temperatures. CCC Rubber & Plastic Dressing is a superior and versatile dressing, formulated to restore a smooth and original appearance to tyres and any rubber leaving a water repellent and long lasting shine. Importantly, it hydrates the rubber to keep it flexible.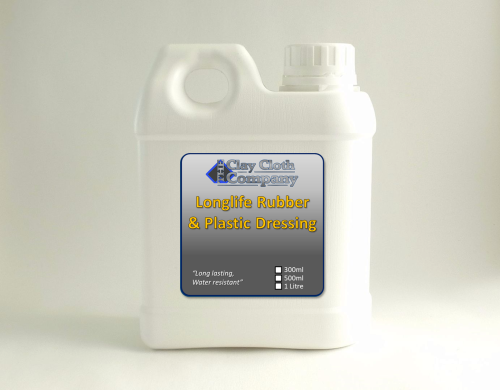 This can be applied in many ways, but we suggest using a Tyre Dressing Applicator. These professional applicator sponges are designed to apply tyre dressing products quickly and easily. Less mess & waste. We recommend you wear protective gloves whilst doing this process.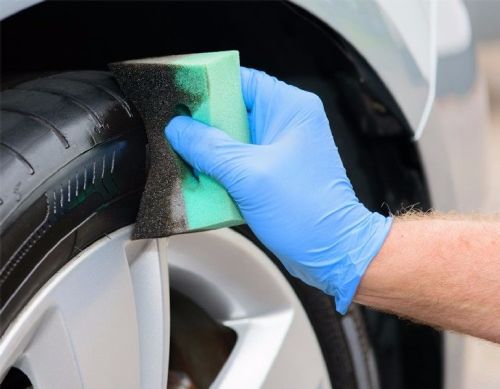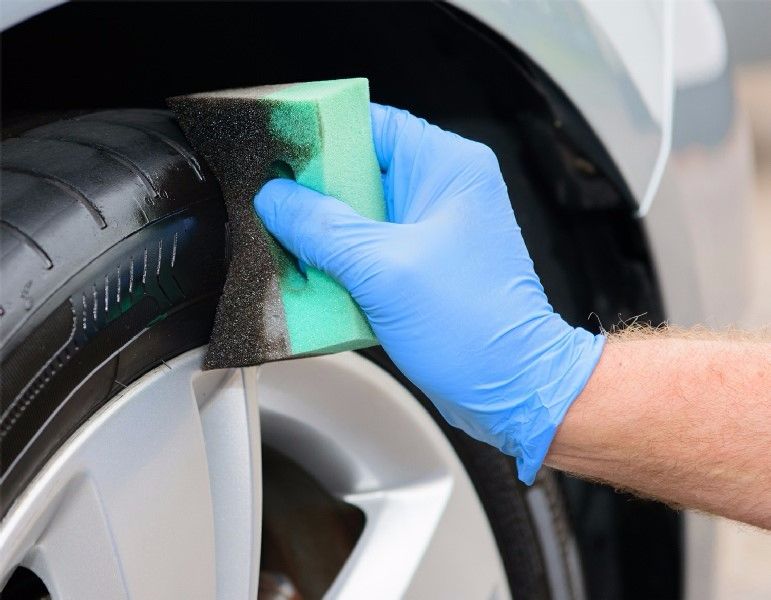 Glass
Keeping your windscreen and glass clean is paramount and there are a few things you can do to make this easier.
SONAX Clear View 1:100 Concentrate is a highly concentrated cleaning additive for the windscreen washer unit with various fragrances. Just 25ml of the concentrate give 2.5 litres of cleaning fluid. It removes all manner of contamination from the windscreen leaving it streak and smear free. (Ideal for high quality XENON headlamps and light diffusing plastic headlamps in clear-glass optic)

CCC Limelite Anti-Fogging Glass Polish
A premium product which has been formulated for 'next level' glass cleaning. Silicone FREE and with anti-fogging properties, this is perfect for both the exterior and interior windscreens and windows.

With a superior cleaning ability, CCC Limelite Anti-Fogging Glass Polish will remove traffic film, transportation wax found on new vehicles, bugs, grease and many types of contamination found on glass.

With its anti-fogging properties, CCC Limelite Anti-Fogging Glass Polish will drastically reduce or even prevent the glass from misting up and this benefit will remain constant as long as the glass is only cleaned with an anti-fogging polish; using a standard glass cleaner without these properties will remove the anti-fogging properties.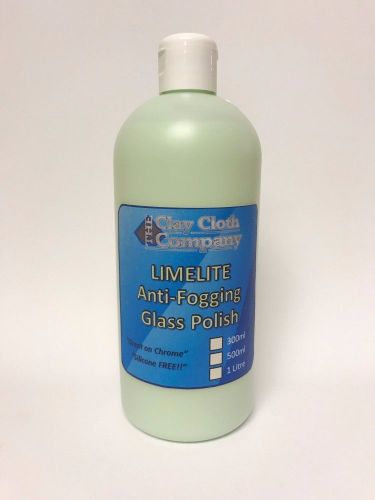 Fogging up windows is a common hazard in the Winter months. You get into your car in the morning and there is a lot of condensation on the inside of the windscreen and glass. Why does this happen? Well, when your windows are colder than the dew point (the temperature where dew forms)inside the car, and you have enough moisture in the air in the car (originating from having the heating on) then moisture will condense on the windscreen over night as the temperature drops and your glass will fog up. Wet carpets from where you get in and out of the car, wet clothing and shoes and normal respiration also contribute towards the moisture content found in your car.
A reusable dehumidifier can go a long long way to reduce this. The moisture killer for cars attracts the excess humidity in your car interior like a magnet. The absorbed water is safely retained without ever leaking out during use. When the bag is fully saturated the colour of the indicator will change. You can then recharge the moisture killer by heating it in the microwave for 6 minutes.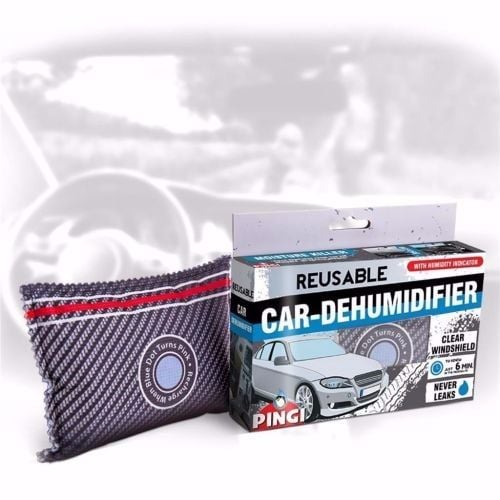 Microfibre Professional Glass Cloth 290GSM 40cm x 40cm
The Microfibre Professional Glass Cloth is designed for cleaning windows and mirrors, polishing chrome, glass, and metals. This cloth has a super tight weave with a low pile.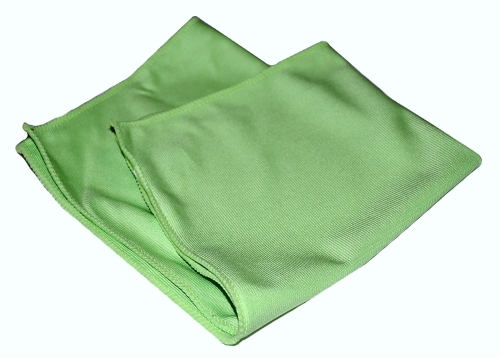 *All of these above products can be bought as a kit here

Protective Gloves
With all product application, it is important to wear protective gloves. Skin absorbs lotions, creams, chemicals and many things which come into contact with it by drawing the material through the permeable outer layer of the skin, known as the epidermis. The amount of moisture already present in the skin, the duration of contact, and the physical condition and health of the skin determine the amount which is absorbed into the epidermis.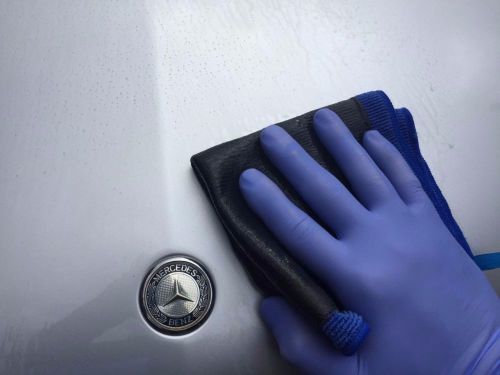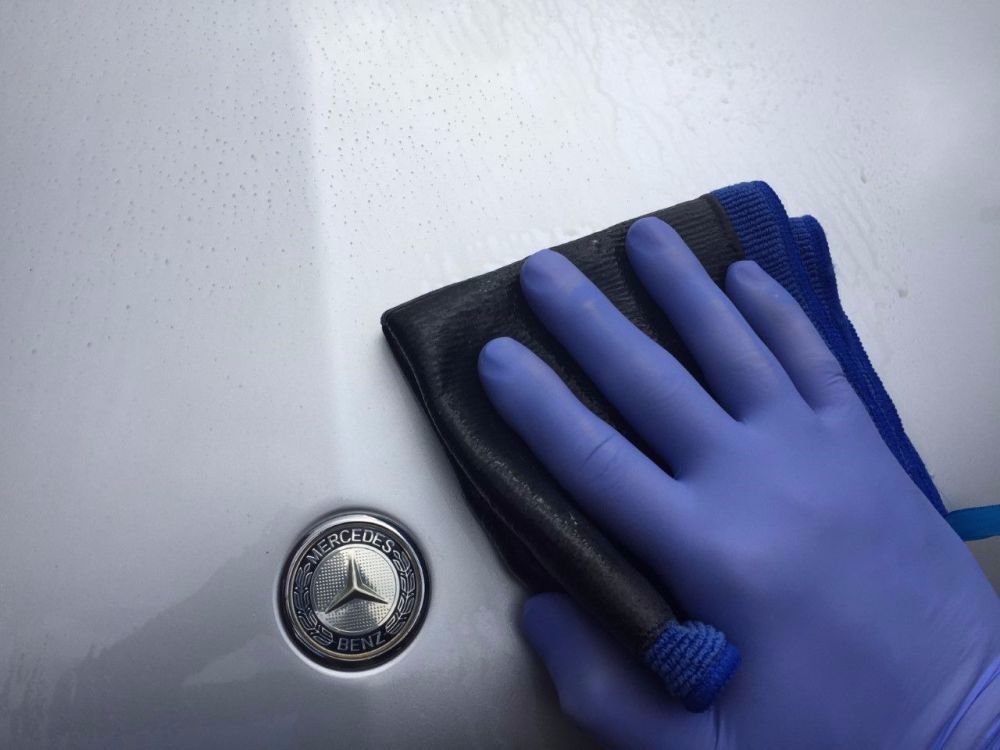 You can read more about Protective Gloves here